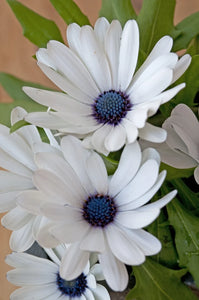 Up for sale is one pack of 20 "Sky and Ice" Cape Daisy Flower Seeds (Osteospermum ecklonis). For zones 4-10 these exotic daisies are easy to sow and are very tolerant of hot weather. This is a mid sized variety that creates brilliant white flowers with a sky blue center.

We offer flat rate combined shipping on all orders, no limit on the amount or type of seed packets.

CULTURE

Soil temperature: 70 degrees max fahrenheit
Germination lighting: Light
Germination days: 20 days
Weeks indoor: 8 weeks
Seed Depth: 1/16"
Seed Spacing: 12"
Plant height: 18''
Plant type: Perennial
Maturation days: 50 days

A staple for many gardens Daisies come in numerous varieties and these are suitable for zones 3-10. These seeds are are very easy to sow and you can start them in pots early, or direct seed them directly in your garden after your last frost in late spring. In pots sow on the surface and lightly dust with sand or vermiculite. Keep cool and try to maintain a soil temperature around 70.

If direct sowing they prefer a bit of warmth to germinate so them in your garden in late spring once soil temps warm up to 70 degrees. Sow on the surface of your garden bed and dust with a very light dusting of peat. Once developed in the garden thin or transplant to 12" spacing.

Cape Daisies are technically a perennial, but are not very cold tolerant. In colder zones that get a hard freeze (8-4) you can treat them as annuals, or dig them up and store them over winter.