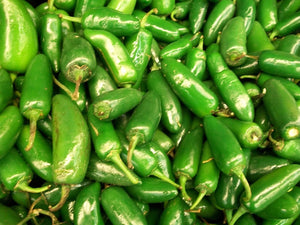 Up for sale is one pack of 25 Organic Jalapeno Hot Pepper Vegetable Seeds. Jalapeno peppers adds a spicy kick to many culinary dishes. Use scissor or a knife to harvest the lantern-shaped pods to not break the stems if pulled.
Companion flowers are marigolds, zinnias, cosmos, and bachelor buttons.
All of our vegetable seeds are USDA certified organic, Non-GMO, and are grown in the U.S.A. All of our seeds are packed in compostable paper seed packets and are plastic free.
We offer flat rate combined shipping on all orders, no limit on the amount or type of seed packets.
CULTURE
Soil temperature: 65 - 70 degrees Fahrenheit
Germination lighting: Dark
Germination days: 10 days
Seed Depth: 1/4"
Plant spread: 16"
Plant height: 30''
Plant type: Annual
Maturation days: 90 days
In zones 3-12, Jalapeno peppers are a spicy addition in your Organic garden and prefer full sun. It's best to start these in starter pots 8-10 weeks before your last frost in the spring. Use deeply watered soil and place seeds 1/2 inch deep in the soil. Lightly cover the surface with vermiculite or sand as they need light to germinate. Keep warm (use a germination mat if necessary) as they need at least 80 degrees at all times and water from below as they don't like to be disturbed. Transplant the seedlings to the garden when they are 3 inches tall and the temperature at night is at least 60 degrees. Space the seedlings 12 inches apart.
You can direct sow these in late spring once your temperatures stay in the 70's. Work your garden soil 6" deep and sow seeds 1/4" deep and 12" apart. In the garden we lightly dust with screened peat to keep the birds from eating them.
Jalapeno peppers grow well in the heat of summer and will thrive in well drained soil. This compact pepper also grows well in a container, keep in mind containers dry out quickly. Support your peppers with a stake or cage.