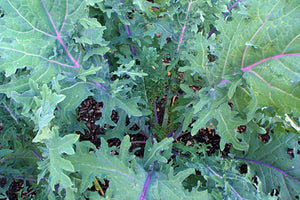 Up for sale is one pack of 200 Organic Red Kale Vegetable Seeds. About 2 months after sowing, harvest individual gray-green leaves with purple veins when they are the size of your hand. Kale is a hardy variety and does best in cool temperatures. This variety is more tender then others.
Companion flowers are nasturtium, marigolds and cosmos.
All of our vegetable seeds are USDA certified organic, Non-GMO, and are grown in the U.S.A. All of our seeds are packed in compostable paper seed packets and are plastic free.
We offer flat rate combined shipping on all orders, no limit on the amount or type of seed packets.
CULTURE
Soil temperature: 55 - 65 degrees Fahrenheit
Germination lighting: Dark
Germination days: 10 days
Seed Depth: 1/2"
Plant spread: 24"
Plant height: 18-24''
Plant type: Annual
Maturation days: 50 days
In zones 3-12, Kale are a staple in your Organic garden and prefer full sun during the cooler part of the year. Kale can be started early in pots. Use deeply watered soil and plant 1/2 inch deep and 16-18 inches apart. Lightly cover with vermiculite or sand as they need light to germinate. When seedlings develop their first set of true leaves and are at least 4 inches tall, transplant to the garden about 4 inches apart. To direct seed, work your garden soil 6" deep, plant 3-4 seeds 1/2 inch deep every 8-12 inches and cover lightly with peat or compost. Kale thrives in deeply watered soil.