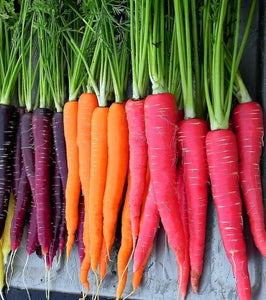 Up for sale is one pack of 150 Organic Rainbow Mix Carrot Vegetable Seeds. This mix is a custom blend of organic red, traditional orange, and purple carrots.
Companion plants are onions, aromatic herbs, lettuce and tomatoes. Companion flowers are nasturtium, poppies and marigolds (especially French marigolds). These flowers will help to repel aphids and other pests as well as attract pollinators.
All of our vegetable seeds are USDA certified organic, Non-GMO, and are grown in the U.S.A. All of our seeds are packed in compostable paper seed packets and are plastic free.
We offer flat rate combined shipping on all orders, no limit on the amount or type of seed packets.
CULTURE
Soil temperature: 45 - 55 degrees Fahrenheit
Germination lighting: Dark
Germination days: 10 days
Seed Depth: 1/8"
Plant spread: 4"
Plant height: 14''
Plant type: Annual
Maturation days: 75-80 days
For zones 3-12, carrots are a staple in your cool climate Organic garden and prefer full sun. When direct sowing the seeds, preparing your beds into raised mounds in a row about 8" wide is recommended. Starting early in pots is not recommended. Generously water the mounds to ensure water is received at the base. Germination will do best in deeply watered soil. Place the seeds 1/8 inch under the soil and lightly cover with soil. After germination, thin your seeds to 2-3 inches to allow for growth.