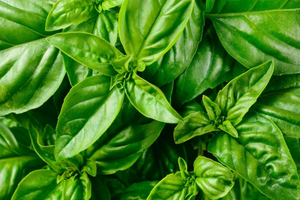 Up for sale is one pack of 200 Organic Italian Basil Herb Seeds. With the largest leaves of any basil variety (2 to 4 inches long), you will have plenty of basil leaves to add a sweet and mildly spicy flavor to your recipes. Used as an aromatic and seasoning in cooked dishes, basil also works well fresh in salads and sauces. To keep your basil growing and to prevent flowering, pinch the top set of leaves regularly. Basil prefers moist, well-drained soil. To have a continuous supply of basil, plant a new round of seeds approximately every 2 weeks.
Companion plants are oregano, thyme, tomatoes, peppers, bell peppers, marigolds and nasturtiums. Avoid planting by cucumbers.
All of our vegetable seeds are USDA certified organic, Non-GMO, and are grown in the U.S.A. All of our seeds are packed in compostable paper seed packets and are plastic free.
We offer flat rate combined shipping on all orders, no limit on the amount or type of seed packets.
CULTURE
Soil temperature: 65 - 70 degrees Fahrenheit
Germination lighting: Dark
Germination days: 10 days
Seed Depth: 1/8"
Plant spread: 16"
Plant height: 30''
Plant type: Annual
Maturation days: 80 days
For zones 3-12 basil is a staple in your Organic herb garden and prefer full sun. Basil can be started in pots 6-8 weeks before your last frost in the spring. Use deeply watered soil and place them on the surface lightly covered with vermiculite or sand as they need light to germinate. When seedlings develop their first set of true leaves and are at least 4 inches tall, transplant to the garden about 4 inches apart. To direct seed, in the spring work your garden soil 6" deep, scatter seeds and cover lightly with peat or compost. Basil thrives in deeply watered soil and responds favorably as a container plant. Containers dry out quickly, be sure to water often and place container in a shady area in extreme heat.