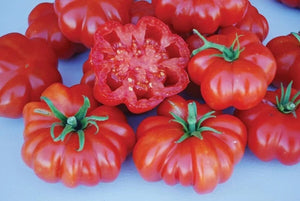 Up for sale is one pack of 20 20 Organic Rosso Sicilian Heirloom Tomato Vegetable Seeds. Unusual ribbed beefsteak style tomato.
All of our vegetable seeds are USDA certified organic, Non-GMO, and are grown in the U.S.A. All of our seeds are packed in compostable paper seed packets and are plastic free.
We offer flat rate combined shipping on all orders, no limit on the amount or type of seed packets.
CULTURE
Soil temperature: 65 - 70 degrees Fahrenheit
Germination lighting: Dark
Germination days: 10 days
Seed Depth: 1/4"
Plant spread: 2'
Plant height: 60''
Plant type: Annual
Tomato Type: Indeterminate
Maturation days: 80 days
For zones 3-12 tomatoes are a summer staple. These are a compact indeterminate type which means they will grow on vines throughout the season and need to be lightly pruned to ensure maximum yield.
We like to start all of our tomatoes early in pots as they require consistent warmth to germinate. When starting early indoors we use a heat germination mat on top of our seed bed until we see some germination activity. We then remove the mat and expose to lights until after our last frost in spring where we will transplant seedlings into our garden.
You can also direct sow these, but you will need to wait until early summer until your daytime temps stay in the 80's.