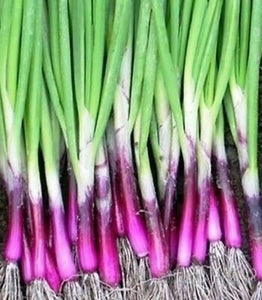 Up for sale is one pack of 50 Organic Purple Bunching Onion Vegetable Seeds. Harvest the onions when they reach 10-12 inches. The flavor will become stronger the longer they are left in the ground. The aromatic bunching onions are enjoyed as a garnish, soups, and many other culinary dishes.
Companion plants are cabbage, lettuce or tomatoes.
All of our vegetable seeds are USDA certified organic, Non-GMO, and are grown in the U.S.A. All of our seeds are packed in compostable paper seed packets and are plastic free.
We offer flat rate combined shipping on all orders, no limit on the amount or type of seed packets.
CULTURE
Soil temperature: 70 degrees Fahrenheit
Germination lighting: Dark
Germination days: 10 days
Seed Depth: 1/4"
Plant spread: 3"
Plant height: 10-12''
Plant type: Annual
Maturation days: 60 days
In zones 3-12, purple bunching onions are a staple in your Organic garden and prefer full sun. It's best to start these in starter pots 8-12 weeks before your last frost in the spring. Use deeply watered soil and place the seeds 1/4" deep lightly covered with vermiculite or sand as they need light to germinate. Keep warm (use a germination mat if necessary) and water from below. For the best flavor and to encourage further growth, cut off tops of the onions when they reach an initial height of 3 inches. This will encourage root growth. Transplant the seedlings to the garden when they are 3-4 inches tall and 3 inches apart. Prior to transplanting, harden off the seedlings for 2 weeks.
You can direct sow these in late spring once your temperatures stay in the 50-60's. Work your garden soil 6 inches deep and sow seeds 1/4 inch deep and 3 inches apart. In the garden we lightly dust with screened peat to keep the birds from eating them.