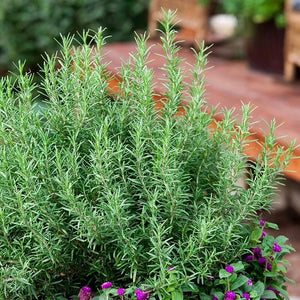 Up for sale is one pack of 10 Organic Rosemary Herb Seeds. One of the few perennial herbs rosemary are very durable and eventually create large bushes.
All of our vegetable seeds are USDA certified organic, Non-GMO, and are grown in the U.S.A. All of our seeds are packed in compostable paper seed packets and are plastic free.
We offer flat rate combined shipping on all orders, no limit on the amount or type of seed packets.
CULTURE
Soil temperature: 65-70 degrees Fahrenheit
Germination lighting: Light
Germination days: 30 days
Seed Depth: 1/16"
Plant spread: 18"
Plant height: 40''
Plant type: Perennial
Maturation days: 90 days
Rosemary is suitable for all zones, but is only cold tolerant down to around 15 degrees. For zones 3-6 you can either dig up your plants and store them for winter, or cover them for extreme cold weather.
Rosemary is very slow to germinate and we do not recommend direct seeding. Start early in pots by sowing your seeds on the surface of your potting material and gently press the seeds into the surface of your soil. Very lightly cover with vermiculite or sand as they need light to germinate, and this step helps keep moisture around the seed until germination. Cover your pots lightly with plastic wrap and place into a shallow dish of water as they need a constant slight amount of moisture to germinate. Do not let your potting material dry out. Place under a light source and once your plants are at least 1" tall, and after you last frost in the spring, transplant them into the garden.
Rosemary is different than all the other herb seeds we sell in that they naturally have a low germination rate of around 50%.