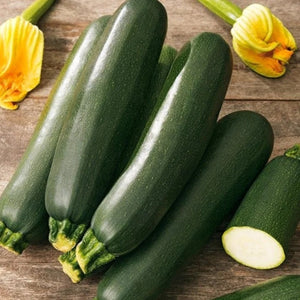 Up for sale is one pack of 10 Organic "Black Beauty" Zucchini Vegetable Seeds. The smooth-skinned squash will grow to 2 feet high and 3-4 feet wide. With a outside and a creamy-white flesh, Summer Squash are a versatile base for many dishes. Pick squash when they are 5-8 inches long and 2 inches in diameter to use in various culinary dishes.
A companion plant is corn. Avoid planting by potatoes. Companion flowers are cosmos, zinnias and sunflowers.
All of our vegetable seeds are USDA certified organic, Non-GMO, and are grown in the U.S.A. All of our seeds are packed in compostable paper seed packets and are plastic free.
We offer flat rate combined shipping on all orders, no limit on the amount or type of seed packets.
CULTURE
Soil temperature: 65 - 70 degrees Fahrenheit
Germination lighting: Dark
Germination days: 10 days
Seed Depth: 1/2"
Plant spread: 3'
Plant height: 20''
Plant type: Annual
Maturation days: 50-60 days
For zones 3-12 squash are a staple in your Organic garden and prefer full sun. These can be started 4 weeks early in pots (peat pots are recommended) but we find they do best if direct sown in the garden in the spring after your last frost. In the spring work your garden soil 6" deep and sow seeds 1" deep and 3-4 feet apart. In the garden we lightly dust with screened peat to keep the birds from eating them. Squash thrive in moist soil. Water from the base and not from overhead. Planting at least 2 squash plants for cross pollination is suggested for a generous harvest, but it is not required.